Viavi introduces Industry-First Narrowband IoT Support for Interference and Performance Measurement
Learn the implications of massive IoT on RF Networks
Viavi announced that CellAdvisor Base Station Analyzer will support the unique signal analysis required for narrowband Internet of Things (NB-IoT) connectivity.
Available immediately, this capability – which Viavi believes is the first of its kind in the industry meets the needs of service providers for immediate testing for the overlay IoT infrastructure that must co-exist seamlessly with the traditional mobile communications network.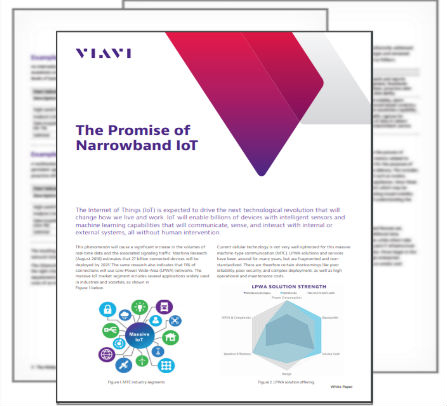 Viavi is introducing this upgrade following successful trials with Tier-1 global service providers and collaborations with major network equipment manufacturers. Download this white paper, The Promise of Narrowband IoT, to learn about the potential of BN-IoT, deployment options, and the current limitations for the technology.
If you'd like more information, please call us on 1800 COVERTEL (1800 268 378) or send us an email at info@covertel.com.au