Viavi Solutions introduces the market's most compact OTDR solution for DWDM or Hybrid CWDM/DWDM network testing
High-performance DWDM OTDR solution for deployment, in-service maintenance and troubleshooting of DWDM fiber networks
Viavi Solutions has introduced the 4100-series DWDM OTDR for its MTS-2000, MTS-4000, and MTS-5800 platforms. As DWDM technology continues to penetrate into access networks, technicians require comprehensive, cost-optimized DWDM test tools. With these, techs can deliver reliable deployments during construction and support efficient troubleshooting of faulty links for ongoing maintenance.
Consisting of a single module, Viavi's C-band OTDR enables wireless, cable, and telco operators to perform complete end-to-end link characterization and troubleshooting through the optical Mux/Demux for newly deployed or active DWDM and hybrid CWDM/DWDM networks.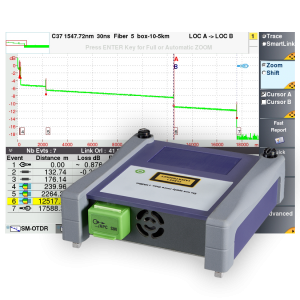 Features and Benefits:
Test new DWDM wavelength routes and pinpoint exact fault locations without disrupting traffic on active channels
Verify end-to-end continuity through ROADM network elements with the integrated C-band tunable laser source mode
Easy setup and interpretation of results with SmartConfigs and Smart Link Mapper (SLM) OTDR applications
Comprehensive qualification and troubleshooting solution, for hybrid CWDM/DWDM networks when combined with Viavi's CWDM OTDR modules
Portable and lightweight, most compact DWDM OTDR solution available for physical layer fiber certification and troubleshooting
DWDM technology has been well adopted in long-haul transmissions for decades. With the growing need for bandwidth driven by data-hungry applications and business services, DWDM technology has now found its way into access networks. CATV operators delivering DWDM-enabled business services and wireless operators moving to DWDM for CRAN front hauls, require a simple way to validate routes to connect new customers and to troubleshoot faulty links in a timely manner without disrupting existing services.
Viavi is the worldwide leader in OTDR manufacturing and has been awarded the coveted Frost & Sullivan Fiber Optics Test Equipment Market Leader Award for fiber-optic test equipment six years in a row.
For more information, please call us on 1800 COVERTEL (1800 268 378) or contact us here.