Ether.Giga is a dual port tester equipped with all standard features, plus new ones such as eSAM, Multistream, FCS error insertion, etc. to quickly install, validate or troubleshoot Ethernet and IP networks, while verifying the Quality of the new Multiplay applications.
The 'state-of-the-art'
Ether.Giga is a field instrument capable to check the Connectivity, the Performance, the QoS and the SLA of Ethenet inf of new Multiplay services to quickly install and troubleshoot Ethernet services, including Triple Play applications, high-performance Computing, Virtualization Services and Data Centers.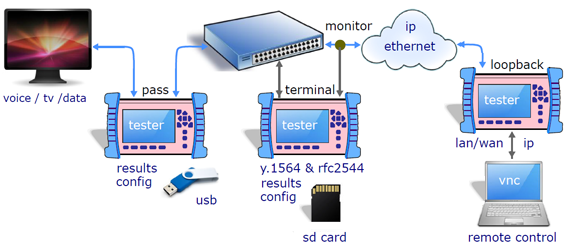 Features and Benefits
Built as a field device to be used anywhere
Y.1564 and e-SAM test
Sym/Asymmetrical RFC2544 test
FCS error insertion in passthrought mode
Multistreams for IPTV, VoIP, and Data test
MPLS and Q-in-Q for demarcation tests
Scan MAC/IP/VLAN/QinQ
Migrable to Synchronous Ethernet (SyncE)
VNC remote control
MADE-IN-EUROPE (design and fabrication)
Applications
QoS and SLA certification
Automatic RFC2544, Y1464
pdf & csv reports on SD/USB
IPTV, VoIP, Data assurance
VNC, LAN or wi-fi control
Spot sources of degradation
s-LEDs all events at a glance
Albedo Telecom's Ether.Giga is the next-generation Ethernet tester used by technicians to test Ethernet and IP connections. It has many useful features like BER and RFC2544, as well as newer features like Y.1564, Y.1731, and FCS error insertion in pass mode. This means that it can check the quality of service and service level agreements for newer services like VoIP, IPTV, VoD, high-performance computing, virtualization, data centers, and storage, which require a lot of bandwidth. With this tool, field technicians can easily and quickly test and fix any issues with these types of connections.
To download the datasheet of Albedo Telecom's Ether.Giga, please click here. If you'd like more information, please call us on 1800 COVERTEL (1800 268 378) or contact us here.