The Secret to Upgrading and Expanding Networks is in Making Legacy Networks More Robust
Whether its data, security or wireless, networks need to evolve in order to be faster, go further and be constantly available to meet demands in our fast-paced world of technology. Change is inevitable, we know, but we believe you shouldn't have to replace your entire network with each new technology trend.
Our simple solutions ensure the existing network is robust enough to smoothly transition to the next phase:
[expand title="Upgrading Surveillance Networks Without Re-cabling" trigclass="ntwrk_upgd_class"]
The evolution of security and surveillance networks to IP cameras is driving new intelligence and capabilities to the network edge. However, as camera capabilities increase, traditional network connection methods can fall short. Upgrading a physical security network doesn't require installing an entirely new cabling infrastructure to support the IP cameras. Instead, using your existing cable infrastructure to bring power and data networking to cameras and other IP devices offers a more cost-effective method for deployment. To connect cameras and other IP devices to the network core, Transition Networks offers a unique line of Ethernet over Alternative Cable Type solutions for transmitting power and data over cable types other than traditional CATx to devices located at the edge of physical security networks. These solutions are easy to use, save on installation cost and result in faster time to service.
[/expand]

[expand title="Re-use the Wired Network to Enable More Wireless" trigclass="ntwrk_upgd_class"]
The continuous addition of wireless access points, IoT gateways and connected machines to already exhausted networks has put additional strain on wired networks to backhaul and connect this ever increasing number of network devices. Rebuilding the Ethernet network in increments of 100 meters of CATx cabling at a time can be costly, time-consuming, and inefficient. That's why Transition Networks offers solutions that allow IT managers and service providers to use existing RG-style coax or 2-wire POTS cabling infrastructure that is being abandoned with the implementation of newer technologies such as digital cameras and IP phones. Transition Networks' Ethernet over Alternative Cable Type conversion technologies – designed to send data and sometimes power over alternative cable types – enable operators to utilize existing assets to implement these technologies, realizing benefits of more than 40% savings and improved time to service. Read more about how you can experience similar savings here.
[/expand]

[expand title="Don't Let a Lack of Power Disrupt Your Network Plans" trigclass="ntwrk_upgd_class"]
Ethernet has traditionally been considered reliant upon CATx cable. Standards were developed for delivery of power along with Ethernet over CATx infrastructure some time ago. However, new innovations now allow for Ethernet and PoE devices to be connected via alternative cable types such as RG-style coax and 2-wire phone line, using Ethernet network extenders that expand networks well beyond the 100m CATx cable distance limitation. These solutions allow you to quickly and easily locate edge devices in places where power was previously not available, helping to avoid unnecessary and costly electrical installations.
Transition Networks' Ethernet extension with PoE+ technologies use alternative cable types for:
Upgrading from analog to IP camera security systems
Upgrading from analog to VoIP phones
Adding wireless access points
Small cell backhaul
And much more
Data and power extension solutions are easy to implement with existing cabling infrastructure, but not all solutions are created equally. Proper consideration must be given to your specific network requirements to ensure optimal power and data solutions. Read more about PoE considerations in Ethernet networks here.
Transition Networks has made it very easy to determine the power and distance that can be achieved with our Ethernet over Coax Extender with PoE+ or Ethernet Over 2-Wire Extender With PoE+ by inputting simple variables into an our calculators.
[/expand]

[expand title="Simple and Flexible Solutions" trigclass="ntwrk_upgd_class"]
Transition Networks Ethernet over Alternative Cable Type solutions include some of the most flexible products on the market. The Ethernet over Coax Extender with PoE+ and Ethernet Over 2-Wire Extender With PoE+ accept multimode and single mode fiber Ethernet inputs, as well as standard CATx Ethernet cable, transfer data at near Gigabit speeds, and provide full PoE+ power to the end device. A web GUI allows simple and secure access, allowing you to configure the devices for optimal use in your specific application.
Transition Networks' IP Over 2-Wire Ethernet Extender allows you to leverage existing 2-wire cable infrastructure for extending the Ethernet network to remote locations, such as light poles or traffic signal poles. As traditional desk phones are replaced with VoIP phones, the abandoned 2-wire cable can also be repurposed for wireless access points, security cameras or other IP devices. The extenders offer a simple plug-and-play solution, reduce network implementation time, and are a cost-effective alternative to running new CAT5/6 cable to upgrade or expand an Ethernet network.
In some cases you may want to use different types of cabling in different areas of the network. Transition Networks easily and affordably facilitate the connection between copper and fiber cabling while also injecting power through the copper port to provide PoE/PoE+ power & data to connected devices at the remote end.
[/expand]

[expand title="Extending Power with Fiber" trigclass="ntwrk_upgd_class"]
When you need extremely high reliability for network devices providing critical communications in locations beyond the 100m Ethernet limit and a remote power source is not available, consider powering those devices with local commercial power over hybrid fiber/copper cable. This fiber optic cable with built-in copper power cable simplifies installation, powering and communication to network devices. Delivering data and power over hybrid fiber/copper cable eases location concerns, allowing network devices like small cells, Wi-Fi access points, security cameras and digital signage to be placed precisely where needed for maximum coverage. In this situation new cabling is used, but the existing power infrastructure can be leveraged for cost savings.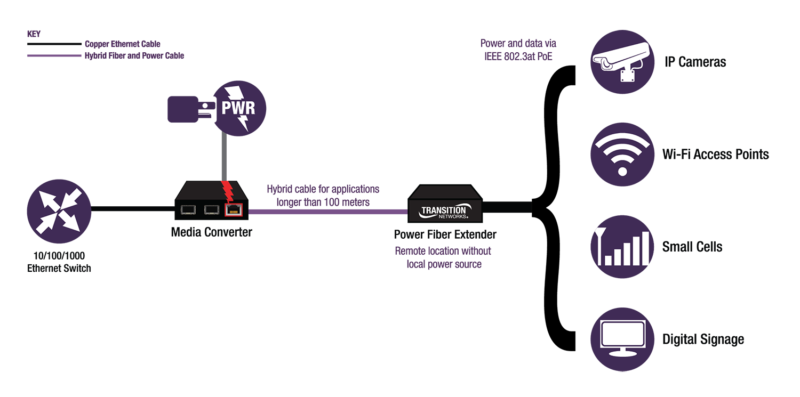 [/expand]

If you'd like more information, please call us on 1800 COVERTEL (1800 268 378) or send us an email at info@covertel.com.au