Sensors to Detect Industrial Leaks for Liquids and Gasses
Serverscheck has created a range of sensors that can detect leaks in both liquid and gas states in industrial settings. These sensors are designed to be highly sensitive and reliable in order to quickly detect any sudden leakage, which could potentially cause dangerous disasters and damage.
The sensors can be used with sensing cables or gas sensors, and they offer a wide range of technology options including SNMP, JSON, XML, and Modbus TCP. This makes it easy to integrate the sensors with existing monitoring systems.
In addition to detecting leaks, the sensors are also equipped with email and SMS alerting capabilities, so that workers can quickly respond to any potential threats. The sensors are also very easy to install and use, thanks to their plug-and-play design, and they are affordable for industrial companies.
Key Features and Benefits:
SNMP, JSON, XML & Modbus TCP ready
Email & SMS alerting
Plug and play
Affordable
Simple
Liquid and Water Leak Detection
The leak detection system offered by Serverscheck is primarily used for industrial and commercial buildings. Leak detection is critical to safeguarding infrastructure, as water and electricity do not mix. However, there are several other reasons to monitor water ingress, leaks, and flooding in facilities.
Water damage is one of the most common problems in commercial buildings and can cause significant property loss, especially in offices and factories. Initially, water damage may appear as water spots on surfaces, which are often ignored as normal wear and tear. Over time, corrosion, rust, and other damage become visible, making repairs difficult and costly. Water damage claims are the fastest-growing claims, with insurance companies paying over $2 billion annually to cover water damage to buildings. Most of the damage is under floors or behind walls, making it difficult to detect, so it's crucial to install a water ingress detection system that can identify the problem early.
In addition to commercial buildings, water damage can also affect data centers and server rooms. Although data centers do not have any water in them, they require a lot of water for cooling purposes. Google and Microsoft are exploring ways to reduce water usage in their data centers, but they will always rely on water for cooling. Traditional fire suppression systems using halon gas are no longer viable due to environmental concerns, so water-based solutions are making a comeback. HI-FOG systems are the latest trend in this area, allowing operators to save significantly on their fire suppression systems.
ServersCheck offers an affordable water sensor that detects even small amounts of water on floors or walls, making it ideal for monitoring commercial and industrial buildings for leaks, dampness, and flooding. The sensor can detect leaks under raised floors and in pipes as well.
The water leak sensor can be easily integrated into your Building Management System (BMS) using Modbus TCP. Alternatively, it can be integrated into your Network Monitoring System (NMS) using SNMP.
Water Spot Sensor
This SERVERSCHECK Water Spot Sensor is used in applications where you want to detect floods. Whenever water fully covers the 2 rods, the sensor is triggered. It is typically used in applications to monitor if water has reached a certain level.
For critical areas where no water is allowed water leak sensor is what you need. This sensor will trigger an alert whenever water makes contact with the cable, even a small amount.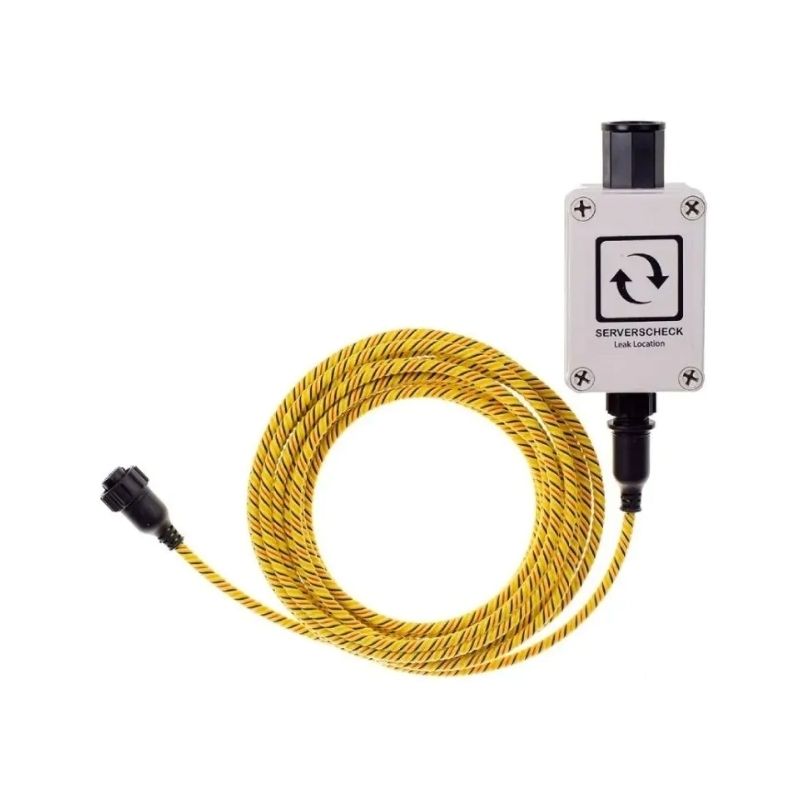 Industrial Water Leak Location Sensor
This Industrial Water Leak Location Sensor is an industrial-grade solution, ideal for detecting leaks and pinpoint the location along the cable, suitable in large areas such as data centers, commercial buildings, warehouses, server rooms, gas tanks, UPS, outdoor cabinets, power rooms, and any other critical facility or infrastructure.
Detects leaks along its cable with an accuracy of up to 15cm (6 inch)
Detects multiple leaks at the same time, with location for up to 2 sequential leaks
Triggers an alert when water touches cable
5m/17ft reusable water sensitive cable
Fuel Leak Detection Sensor
This Fuel Leak Detection Sensor is designed to monitor for hydrocarbon leaks like oil & fuel in critical infrastructure facilities. It integrates via Modbus TCP, SNMP, XM, JSON with 3rd party systems.
Plugs into the base unit (BASE-WIRED)
Powered by the base unit (BASE-WIRED)
Leak Detecting Sensing cable is made in the USA
Alerts via SNMP Traps, email, SMS or voice calls
Expandable up to 30m/100ft per sensor
Sensing cables are approved for installation in ordinary and hazardous areas
Gas Sensors
These sensors are highly versatile and can be configured to sense up to four different types of gases simultaneously. What's more, with over 22 types of gases available, the combination possibilities are endless, allowing you to monitor almost anything for any combination of gases.
Hydrogen (H2) Gas Sensor
This Fuel Leak Detection Sensor is designed to monitor for hydrocarbon leaks like oil & fuel in critical infrastructure facilities. It integrates via Modbus TCP, SNMP, XM, JSON with 3rd party systems.
Measures hydrogen in the air between 0 to 100% LEL
Lab calibrated against 50% reference gas
Proven sensor component made in Japan
Sensors for 21 other gas types like CO, CH4, HF, NH3
Compact plug & play sensor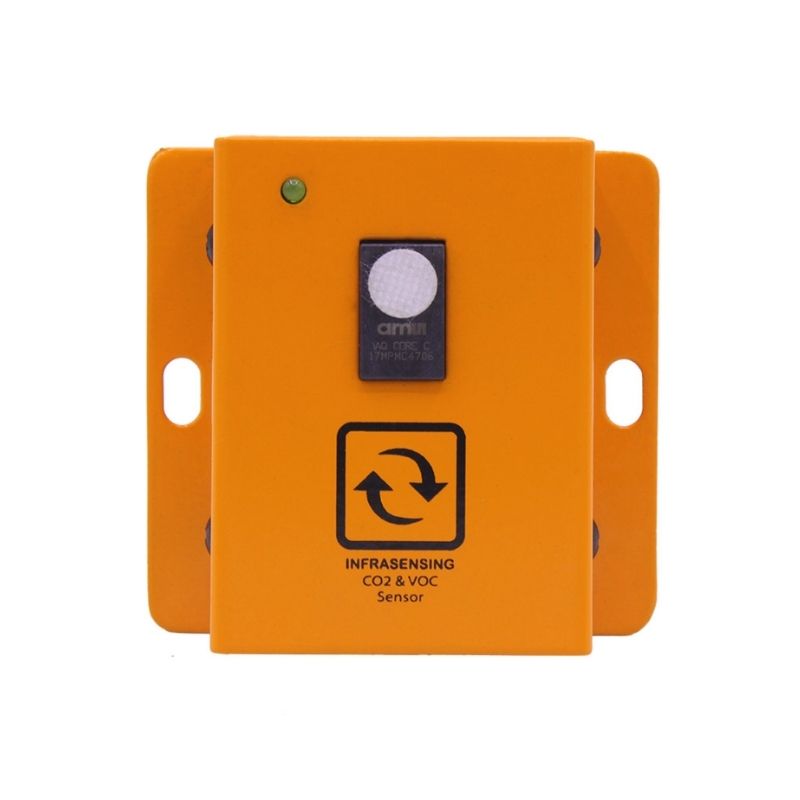 Indoor Air Quality (IAQ) Sensor
This Indoor Air Quality (IAQ) Sensor measures the volatile organic compounds in the air surrounding the sensor. Those measurements enable you to monitor the air quality inside your buildings, data centers, server rooms, healthcare facilities and other critical facilities.
plugs into the base unit (BASE-WIRED)
powered by the base unit (BASE-WIRED)
compact plug & play sensor
designed for indoor use
Measures CO2 levels in ppm equivalents
Keep your business safe from industrial leaks for liquids and gasses.
If you'd like more information contact us on 1800 268 378.