Safety is of utmost importance and the brightest signalling beacon, especially in the dark, will make you feel safer.
Our communities have faced challenges and the events over the recent years has proven that being prepared for emergencies is more vital than ever. Whatever comes our way, we must increase our ability to endure, adapt, and prosper.
What is a Blue Light Emergency Telephone?
We all know that the number of people using mobile phones is increasing, but it is an established truth that in unexpected emergency situations, Emergency Call Systems are a more effective and dependable communication method.
The OGP Outdoor Help Point Tower is designed to enable the public to issue emergency and/or assistance requests at a touch of a button!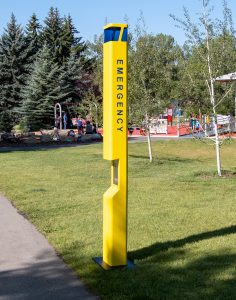 FEATURES
316 stainless steel base is designed to breathe out condensation to prevent internal moisture build up within the pole
Integrate DIN mounting system to allow for 3rd party equipment (ie: media converters, switches)
Removable sealed service panels (with security screws) to access internal systems
Large radius rounded corners for impact safety
Panel area has overhead LED illumination
Panels are reverse mounted to eliminate exposed screws
Large bright beacon - 360° viewable. Operational modes are user selectable
High impact beacon lens, UV protected for long life
Supports optional overhead camera mount
Dual coating; Safety Yellow exterior UV protected, with corrosion resistant primer
Large visible signage on 2 sides. Content user definable
Panel area supports Guardian's HDE Series of Analog and VoIP Help
Meet the critical demands of public safety and operational security, while delivering reliable communications with the help point tower!
Reach out to us anytime at +61 3 9381 7888 or contact us here to know more about this product.