In today's fast-paced business world, having reliable and effective communication is crucial for success. That's why every utility, corporation, and enterprise needs a communication solution they can depend on. The CONNECTION MASTER is the ultimate communication device that can help empower your business with high-quality, secure, and flexible communication capabilities.
The CONNECTION MASTER is packed with leading critical communication technologies that provide access to SDH/TDM and packet-based multi-service access, aggregation, and transport layer optimized for electricity power utilities and other private networks. This device is also future-proof, which means you can easily upgrade it to the latest MPLS-TP technology whenever the need arises.
What makes the CONNECTION MASTER stand out from other telecommunication devices is its user-friendly interface and robust features. You can easily manage the device's settings and services using the built-in technologies and network management system. Additionally, the CONNECTION MASTER is incredibly flexible, supporting various existing communication means while taking you towards the next generation of networks.
When you invest in the CONNECTION MASTER, you can be confident that you're getting a reliable, high-quality communication solution that will last for decades.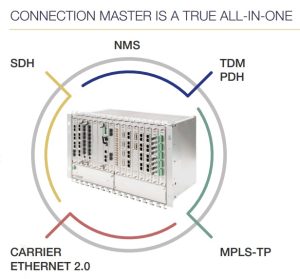 DNWP's flagship product, Connection Master represents a smart business decision with it's primary value being RELIABILITY. It provides essential features for a modern network such as high availability, service quality, and security.
Key Features and Benefits
Hybrid solution: simultaneous delivery of TDM & packet based services over SDH/PDH networks
Trunk interfaces: STM-1/4/16 (1GE/10GE, MPLS-TP in R2.4)
High availability options with redundant control and power units
Optimized for strictly time critical, low latency applications
A wide range of interfaces and cross-connection options
End to end service provisioning with network management system
Easy to use graphical user interface
Don't wait to enhance your business's communication capabilities - get the CONNECTION MASTER today and stay ahead of the competition. Call us today on 1800 268 378 to arrange a demo or contact us here.