APAC 5G Field Webinar Series
Fronthaul | Midhaul | Backhaul Transport and Synchronization Test
Wednesday, September 16th
2:00pm AEST


This webinar will provide an overview of new capabilities that emerging transport and synchronization technologies to meet the needs of 5G services. It describes some of the critical field deployment use cases that demand new transport and synchronization testing methodologies. Examples include eCPRI/O-RAN, RoE, SPN/G.mtn and TSN testing. Register for the webinar now!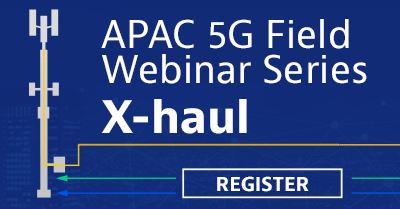 Missed the Webinar?
Why 5G Testing is Important
As 5G networks become more complex and encompass a range of new technologies and use cases, testing solutions have had to adapt and become more sophisticated. This means testing now involves complex use cases and architectural advancements that span a range of network elements, including the core, transport, RAN (radio access network), and fiber network. These elements need to be tested simultaneously to ensure that the network can deliver the expected performance and meet the demands of emerging use cases.
To support this level of testing, advanced emulation and verification technology is necessary in the 5G test lab. This technology allows testers to create a virtual environment that accurately emulates real-world scenarios and test a wide range of network elements and use cases. The emulation and verification technology needs to be scalable to the full 5G deployment in the field, so that testers can simulate real-world conditions and ensure that the network can perform as expected in a wide range of scenarios.
In short, 5G testing has become a critical enabler of 5G potential, and that advanced testing solutions and emulation technology are necessary to test the full range of 5G network elements and use cases, both in the lab and in the field.
The demand for high-speed, reliable, and synchronized fronthaul and backhaul connections in 5G fiber networks is placing a significant challenge on the network. Furthermore, the introduction of new technologies such as network function virtualization (NFV) and edge computing is creating additional obstacles to achieving optimum network performance. To overcome these challenges, 5G networks require real-time intelligence platforms that can provide automated testing, optimization, and visibility. This is essential to ensure that the 5G network can meet the high-performance requirements and enable the successful deployment of 5G solutions.
VIAVI offers comprehensive portfolio of 5G test tools to support all phases of 5G deployment, with the adaptability required to assure quality and performance across all facets of the 5G landscape, making VIAVI a stand out amongst 5g testing companies.
Do you need help in finding the right 5G solution for you? Call us on 1800 268 378 or click here.