InterferenceAdvisor
Fully-automated interference hunting
RF interference can reduce coverage, capacity, and throughput on your network. Detecting and isolating interference can be both challenging and time-consuming – but it doesn't have to be.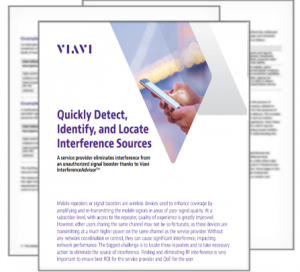 This
Viavi case study
shows how a Tier One service provider located an interference source in a dense residential area in just three hours, using InterferenceAdvisor™.
Don't let RF interference compromise your network's performance any longer. InterferenceAdvisor™ from Viavi Solutions can help you detect and isolate interference quickly and efficiently. With its fully-automated interference hunting capabilities, InterferenceAdvisor™ can save you time and resources while improving your network's coverage, capacity, and throughput. Contact us today to learn how InterferenceAdvisor™ can benefit your network and help you stay ahead of the game.