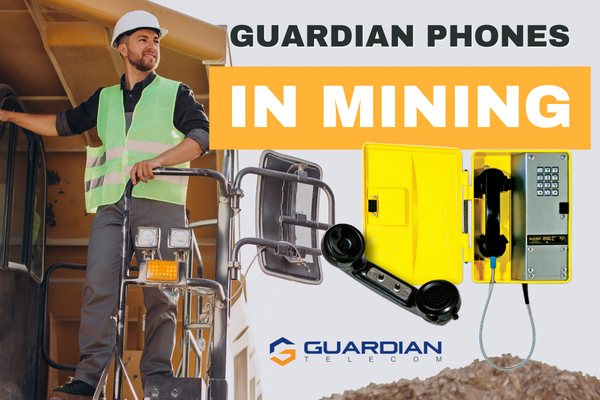 Case study
Guardian Telecom's weatherproof telephones in mine sites
The Challenge:
The harsh conditions of a mining site can pose several challenges for communication systems. In North West Queensland, a mine site that produces silver and lead was facing communication issues due to the extreme weather conditions, including hot and dry weather of  up to 50°C during summer, wind and dust, and chemical vapors from mining activities. Consequently, the existing communication system was unable to withstand the high levels of humidity, dust, and chemicals, leading to frequent device failures, downtime, and productivity loss,  posing a safety risk for the workers due to its unreliability.
The Solution:
To overcome these challenges, the mine site decided to install Guardian Telecom's WRT-40 VoIP Telephones. These weatherproof telephones are designed to operate in hazardous environments, certified to withstand extreme weather conditions, and resistant to moisture, dust, and corrosive chemicals.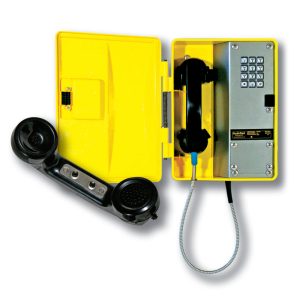 Guardian Telecom's WRT-40 VoIP is a tough, reliable, weatherproof telephone that has a metal keypad and an armored handset cord. It connects to the mine site's IP PBX to enable mine workers to remain connected in harsh conditions. These weatherproof telephones can be remotely monitored and programmed through a web browser, which simplifies their installation and use.
One of the most remarkable features of the WRT-40 VoIP phones is their noise-reducing technology with optional noise-cancelling enhancement should the site require even further noise reduction. This feature enables clear communication in high-noise environments, eliminating background noise and ensuring that the workers can communicate effectively.
After the installation, Guardian Telecom's weatherproof telephones guaranteed a robust communication solution for the mining site, providing reliable communication even in harsh weather conditions. The noise-reducing technology eliminated background noise, allowing for clear communication in noisy environments, and the integration of the emergency communication system enabled quick and easy communication during emergencies. The installation also resulted in cost savings due to the longer lifespan of the weatherproof phones compared to the mine's previous communication devices, reducing the need for frequent replacements. The reliability of the new communication system led to less downtime and improved productivity.
Conclusion:
The implementation of Guardian Telecom's weatherproof telephones provided a durable, secure and reliable communication solution for the challenges posed by harsh environments, such as mining sites, and is backed by a 5 year warranty that comes standard with every Guardian solution. These phones can withstand extreme weather conditions and operate in hazardous environments, making them an ideal choice for communication needs in mining sites.
CoverTel is dedicated to providing its clients with high-quality solutions that meet their needs, even in the toughest and most demanding environments. CoverTel understands that our clients need dependable and efficient communication solutions that can handle harsh environmental conditions. Through their partnership with Guardian Telecom, CoverTel can offer a diverse selection of resilient and weatherproof telephone systems that are tailored to the unique requirements of our clients, no matter the environment they work in.
Guardian Telecom specialises in the design and manufacture of industrial communication and safety equipment. Their innovative products are tailored to meet the demands of hazardous environments found in industries like oil and gas, mining, utilities and transportation. These cutting-edge products, including industrial telephones, paging and intercom systems, explosion-proof speakers, and emergency telephones, are built to withstand extreme weather conditions and adhere to industry-specific safety requirements. Thanks to their focus on developing products that enhance communication and safety in such environments, Guardian Telecom is widely recognized as a leader in industrial communication and safety equipment.
Contact us today or call us on 1800 COVERTEL (1800 268 378) to discuss your requirements for innovative and efficient solutions that will exceed your expectations.